In the current situation of this coronavirus (Covid – 19) period, your safety as well as ours is our priority.
Last update : May 17th 2021
"Foreign tourists coming to France will be able to take a free PCR test before returning home" : information from the 17th of May 2021
The complete procedures we have to apply on the camp. 
The most important is : 
We protect all of us : you, our guests and us : our family ! 
Establish and promote the distancing and application of the barrier gestures
we have installed a Plexiglas-type protections at the office, 
"Hydroalcoholic solution" is already at the office, at the sanitary block, at the pool… 
"space" for everybody : we have 7 hectares for 90 places, 
when we receive a new family, we receive one by one and ask to the next one to wait outside, 
we give folders to visit the surroundings and ask to the customers to keep them and don't touch all the others ;
at the swimming pool, we will ask to people to respect the rules, stay far from the others, avoid close contact…
Regular cleaning & disinfection of places welcoming the public : office, sanitary facilities, everywhere can be touched and used, 
at the sanitary block, we ask customers to have a mask to protect everybody, 
We are not afraid, we will take care with you.
Of course, we need you to help us ! 
Respect the 5 Barrier Gestures :

wash your hands regularly, 
cough or sneeze into your elbow or into a handkerchief,
Use a single-use handkerchief and then throw it in the trash,
Greet without shaking hands, avoid kissing,
Keep the 1.50m distance from others

Come with masks, gloves, wipes and hydroalcoholic solution – Please note, these masks, gloves and wipes must be thrown in the trash, not in the toilet and of course not in the nature !
For rental accomodations : you can bring your own pillows, sheets and blankets, leave the windows open as often as possible, especially when leaving (depending on the weather).
Please just have a responsible attitude, respectful of the Other in good humor and courtesy !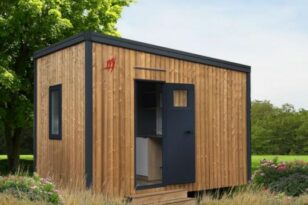 2021 layout: 4 private bathrooms for more comfort and privacy!
These sanitary facilities are for EXCLUSIVE USE FOR A SINGLE PITCH!
So you will be warm and feel like at home on your own camping place !