The establishment is open everyday from the 1st April until the 31st of October.
The office is open from 10 AM to 12 AM and from 2 to 7 PM during this period.  
Outside these hours, you can contact us by e-mail or leave a message on the answering machine.
---
Activities & children's play
At your disposal for you and your kids : 
A swimming area with heated paddling, 2 separated spaces to play, a jacuzzi from mid-May until mid-September.

Outside playground

Volleyball court
Table tennis 
Trampolines, 
Inflatable Giraffe
Inside games (in summer : table football, pool, pinball machines…)
Services for campers
From april until the end of the season, the baker comes at the camp to sell bread and pastries.
At the office, we will give you touristic information and a little grocery is available…
In high season : television room and take-away meals in the evening.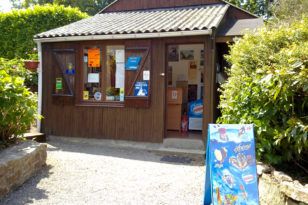 Catering :
During summer, food-trucks come on the camp for diner !
During all the year, you have : the Oystercatcher bar where you can eat Hamburgers or a "Day meal"and drink a good beer and some restaurants (less then 5 kms)
Food truck on the campsite :

from July 3 to August 28 in the evenings from 5.30 p.m. to 8 p.m.
MONDAY: Pizza Luppio: Guy will offer you wood-fired pizzas
WEDNESDAY: Blue Crush: Jérome will treat you with bagels, hot dogs and some sweet treats: donuts, cookies …
THURSDAY: Gourmet wink: Jocelyne and Patrice will present you the local products: to bring back, to taste on the spot or to offer! In Cherrueix, you can also go to the farmers market.
FRIDAY: Ice cream milk: Laetitia & Jean-Francois will make you taste their homemade ice creams and will be able to talk to you about their production: from the milk of their cows to the making of their ice creams in the laboratory (which can be visited by reservation!)
SATURDAY: Loulou's band: Loulou & Isabelle will offer you grilled meats and fries!
SUNDAY: Loulou's band: Loulou & Isabelle will offer you the "famous" mussels from the Bay of Mont Saint Michel.
Direct booking with the food truck on site the same day!

We don't accept groups 
We have a little and quiet camp with a friendly atmosfere ! 


Paying Wi-fi access on all the camp 
with WIFIRST company.

Bank card and credit card
accepted